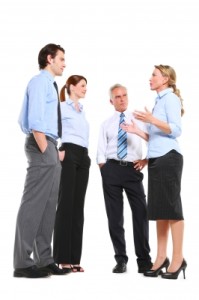 I think we can agree that no one really wants to hear scathing diatribes and grievances at work. So when you've got a valid reason to complain, proceed carefully. There's an art to getting heard by the right people at the right time and in the right way. Be smart about how you voice your complaint.
For sure, everybody listens to gossip and it seems to be human nature that we want to hear bad news. But if you really want to make a difference and see some changes, you don't want to get trapped into that role.
Nothing is easier than fault-finding. No talent, no self-denial, no brains, no character, is required to set up in the grumbling business. But those that are moved by a genuine desire to do good have little time for murmuring or complaint. ~ Robert West, reported in Josiah Hotchkiss Gilbert, Dictionary of Burning Words of Brilliant Writers (1895)
When you've got a legitimate complaint, consider carefully who you should complain to, how to phrase your words, and present your feelings in a calm yet effective way.
There are no magic words that will convince people to listen to you, but Professor Johny Garner offers four suggestions in a Harvard Business Review blog post ("How to Communicate Dissent at Work," February 4, 2013) to get positive results. Here are two of his ideas:
First, choose your audience. Determine who should be on the receiving end of your dissent. To effect real change, you'll need to express your ideas to someone who has the power to remedy the problem. For examples:
The boss. Many employees automatically turn to their supervisors, but he or she may not have to power to address all problems. Similarly, supervisors may not be willing to ferry complaints up the chain of command.
Of course, you may have other goals when expressing dissent. If you just want to get something off your chest, telling your supervisor may provide some peace of mind, regardless of the eventual outcome. It also shows that you care about key issues.
Coworkers. If you're looking for someone who understands your frustration, your coworkers make the best audience. Though it's rare that lateral dissent results in change, it helps build a coalition around your position. It also helps prepare you for subsequent conversations with a supervisor. But be careful how you voice your concerns among coworkers; you don't want to be labeled a malcontent or troublemaker.
Next, choose your words. Regardless of whether you're looking for change or understanding, package your dissent with a solution instead of merely spotlighting a problem. Proposing fixes makes it more difficult for people to dismiss you as a petty grumbler, and it helps move the organization in the right direction.
While negativity is usually frowned upon, most people are open to new ideas and improved outcomes. Your boss and coworkers may even jump at the chance to help you refine your ideas.
Always emphasize the solution when describing a problem. If you fail to present it clearly and forcefully, it may go unnoticed, making it easier for your audience to brush off your dissent. Presentation strategies that emphasize positive opportunities over negative realities always help you plead your case.
In my opinion and experience, it's best to share a complaint with your coach or mentor before you speak up. What's been your experience listening to complaints? Making them? I'd love to hear from you.