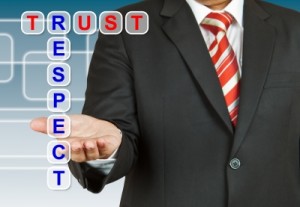 You probably assume that because you're trustworthy, the people who work for you trust you. But that may not be true, according to worker surveys. And it could be a cause of poor business results.
A Watson Wyatt Worldwide study of 12,750 U.S. workers in all major industries found that companies with high trust levels outperform their low-trust counterparts by 186 percent.
Nonetheless, organizations are woefully slow to realize the bottom-line implications of mistrust.
Despite trust's importance, few leaders give it the focus it deserves. Misunderstood as a nebulous "feeling," it's earned through consistent, positive behaviors practiced over time, making it ultimately manageable.
"Trust always affects two outcomes—speed and cost," confirms leadership guru Stephen M. Covey in The Speed of Trust. "When trust goes down, speed will also go down and costs will go up. When trust goes up, speed will also go up and costs will go down. It's that simple, that real, that predictable."
I'll bet there's a trust deficit in your company, and you may not even realize it. Maybe it's part of the culture, and it's not talked about. It's a hidden cause of lack of engagement. What do you think?

The Fragility of Trust
We hardly need reminding of the wave of scandals that shattered the public's faith in corporate leaders: the 2008 global financial crisis, the Enron bankruptcy, the Challenger explosion, the Fukushima nuclear disaster, the sinking of the Costa Concordia cruise ship in 2012.
Trust is a measure of the quality of a relationship—between two people, among groups, or between a person and an organization. In totally predictable situations, it's assumed. When you know exactly what to expect, there's no need to make a judgment call.
Quite frankly, from what I can see in the work I do coaching, many leaders are basically trustworthy as individual human beings. But in organizations with a hierarchy, power incongruities and pay differences, perceived trust is fragile.
In addition, the turbulence created by outsourcing, mergers, downsizing and radically changing business models provides a breeding ground for distrust. In uncertain economic times, it doesn't take much to trigger fear and insecurity that can erode confidence.
What about in your organization? Are your leaders perceived as trustworthy? I'd love to hear from you, leave a comment.
(Image: freedigitalphotos.net)