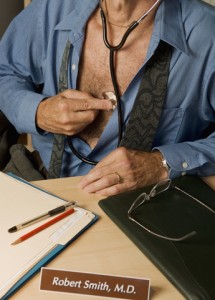 The idea that leadership health and peak performance at work is linked to health is not surprising, nor is it new. There are health and fitness programs offered through many employers.
According to the Kaiser Family Foundation's 2012 annual survey of employer health benefits, 63 percent of U.S. companies offer at least one wellness program, be it a weight-loss program, discounted gym membership, on-site exercise facility, smoking-cessation program, nutrition/fitness class, web-based resources for healthy living, wellness newsletter or personal health coaching.
Twenty-one percent of small companies (3–199 employees) and 56 percent of large companies (200+ employees) actually provide lifestyle or behavioral coaching. Here's what I see usually happens: the people who use coaches most often are those who've have had a health scare.
Most of us think we're just fine the way we are. We'll start the diet or exercise program next month, after this project is done. It's not until we hit a wall that we realize we need help. We have to recognize our own personal rock bottom. It's a shame, but we don't take real action until we get a wake up call. Maybe it doesn't have to be that way…
When's the right time to get wellness coaching for unhealthy habits? Many leaders don't have much time for personal development, unless it's directly work related or mandated. But without extreme health, the stress of leadership can take a toll on your ability to perform and bring about results.
In the work I do coaching executives, I see this many times. Many of us wait to see a doctor until our symptoms become unbearable. Similarly, we'll avoid booking an appointment with a coach, marinating in denial and insisting, "I'm fine…really." The truth is only a heartfelt desire drives us to seek deep and lasting change. And it's usually after something bad happens.
Wellness coaches are credentialed professionals with expertise in a variety of health domains: exercise, smoking cessation, nutrition, weight loss, stress management and life satisfaction. They work with clients to effect change through personally tailored behavioral plans. Without the support and structure a coach imposes, it may be impossible for you to achieve the changes you seek to make.
While personal trainers offer side-by-side instruction, wellness coaches aren't the same. They won't tell you the answers, the recipe. Instead, they provide tools that allow you to discover and implement your own solutions. You learn how to meet your specific needs with available resources.
Effective coaches know how to ask the right questions, leading their clients on a path of self-discovery. They employ "appreciative inquiry," focusing on what clients do right instead of delving into and analyzing the negative. Storytelling is another coaching tool that helps clients connect challenges and experiences to their own life stories.
If your company has not yet implemented a wellness program, talk with them about adding one. Consider working with an executive coach to achieve more healthy habits and life satisfaction. You'll be glad you did. Trust me on this, I know from personal experience! Don't wait for bad health to strike, it's not worth it. Give me a call, 704-827-4474 and let's talk.