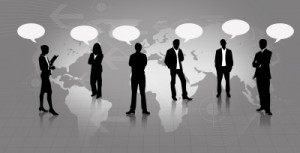 There are many ways to find good leadership stories. One way is to pick a challenge or lesson you want to teach through story. Then, match the story to the objective. In today's Internet and LinkedIn world, there are many ways to search for good leadership stories and common leadership challenges.
Make a list of your most important leadership issues, such as:
Envisioning the future
Strategic purpose and goals
Team alignment
Values and corporate culture
Customer service and focus
How you can teach leadership principles and values through stories of real people in your particular industry? Look for stories about people who implement their core values in day-to-day tasks. Values tend to be vague until you integrate them into stories about actual experiences. Browse for leadership stories on Amazon.
Business books can be excellent resources for stories. One highly recommended title is Paul Smith's Lead with a Story: A Guide to Crafting Business Narratives that Captivate, Convince and Inspire (Amacom, 2012). Smith, the director of consumer and communications research for Procter & Gamble, includes numerous life lessons from companies like Kellogg's, Merrill-Lynch, National Car Rental, Wal-Mart and Pizza Hut.
Inspire with Emotions
Magic happens when you narrate otherwise soulless data into emotional nodes that render an experience to an audience—and a single listener is an audience—that makes the information inside the story memorable, resonant and actionable. ~ Peter Guber, Chairman and CEO, Mandalay Entertainment
With the leaders I work with, those who successfully use storytelling know it's key to establish an emotional connection and stimulate a desire for a different future. Without this connection, nothing happens. Decisions are made emotionally, without activation of the brain's logic center, so appealing to your audience's aspirations is critical.
Information, even through dramatic graphs and charts, can't spark that motivation. Stories can.
The leadership challenge requires you to help your people see new possibilities and come to their own conclusions, based on the evidence presented in your stories. Encourage people to view a situation through their own lens, but in a new way. This will help them to get behind organizational goals.
The idea of using stories certainly isn't new. Those that are effective for leaders aren't big and dramatic tales relayed through a bullhorn. Change usually hinges on simple, unpretentious and authentic leadership stories.
Practice telling positive, minimalist stories that reveal how successful changes have occurred. This approach connects you and your audience on an emotional level, leading to action and a willingness to imagine a new future.
Not everyone is naturally adept at storytelling. One good way to improve this skill is through working with a coach. If you'd like to have a conversation about how this works, give me a call. Let's talk: 704-827-4474.