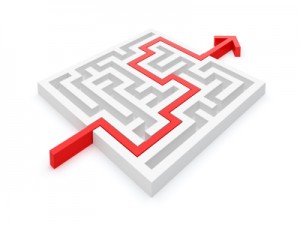 Creative thinking in business starts with having empathy for your customers. You cannot be truly inspired if you're sitting comfortably behind your desk—unless, of course, you're venturing into online forums and social sites where customers express their complaints.
Looking at spreadsheets filled with focus-group data won't inspire breakthrough ideas. In the real and virtual worlds, you'll hear unexpected, outside-the-box comments. Even feedback from irrational people—the customers whose comments you really don't want to hear—can provide important insights.
That's why it's important to visit sites like LinkedIn and the specialty groups they have in your field.
When you pursue information without preconceived ideas, you'll make new discoveries about customers' needs. You'll stumble upon concerns you've never even considered.
In "Reclaim Your Creative Confidence" (Harvard Business Review, December 2012), authors Tom Kelley and David Kelley identify four common fears that block our best ideas from coming to fruition:
The messy unknown
Being judged
Taking the first step
Losing control
Here are a few things you can do to conquer your fear of the messy unknown:
Visit online social sites to tap into customers' grievances and desires.
Ask colleagues who regularly go into the field to report what customers are saying.
Seek opinions from an unexpected expert, such as a repairman.
Be a spy. Observe people in places where your product is used.
Interview potential customers in stores or other places they may be found.
I wrote about the fear of being judged in my post here last week. Here's more about the fear of taking the first step.
Fear of Getting Started
Creative efforts are hardest at the beginning: writing the first sentence, making the first phone call, announcing the intended project. The first step can be anxiety-provoking and physically draining. You need to stop planning and get started.
In order to get into action, you'll need to stop focusing on the huge overall picture and find a small piece you can tackle right away. Give yourself a crazy deadline. Instead of "by the end of the week," try for "before lunch." You might just surprise yourself!
At IDEO, Tom and David Kelley embrace the mantra "Don't get ready, get started!" The first step will seem much less daunting if you make it a tiny one and force yourself to do it now.
A journey of a thousand miles begins with a single step. ~ Lao-tzu, ancient Chinese philosopher
When you procrastinate, you allow anxiety to build. It may be reassuring to spend more time planning, thinking and talking about your action steps, but much of this is wasted time. What do you think?