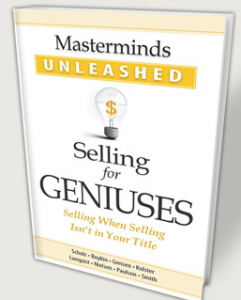 The problem with most sales books is that they focus solely on what to say once you are in front of the prospect. That's not half as important as what goes on before you even set up the meeting. There's a smart way to set yourself up for sales success.
The first steps in organizing a successful sales process for yourself has to do with sitting down, and clearly defining who you're going to do business with, how you're going to be in the right place at the right time with the right people. You'll need to spend time clearly defining your positioning and expertise.
Planning is probably just as important, if not more, because there's a way to set yourself up for success.
Relationships are key. You need to put yourself in front of the right people at the right time, with the right message so there is shared value in the relationship.
Importantly, there has to be mutual benefit if you want to create a lasting, long term connection with a prospect.
When I work with business professionals in a coaching capacity, I ask my clients to define what it is they want, using these four key concepts, and they also work well for planning a sales process:
Clarity: Have a clear definition of the clients you want to do business with. How are you positioned in the marketplace? How are you positioned in the minds of your clients? If you're not sure, ask some of your current clients. It's up to you to position yourself, to narrow your focus, to pick your target.
Focus: What is your level of effort in going after your clearly defined market? How focused are you on getting business on board? Remember that distractions often start out as opportunities, but they are often only masquerading. Clarity will help keep you focused so you don't get distracted.
Attention: Are you scanning your environment and paying attention to opportunities that fall clearly within your defined market?
Intention: What are your goals? Do you have a way to measure your progress? Are you working intentionally, monitoring those activities that achieve results? How are you intentionally creating the relationships you have planned?
Clarity, focus, attention and intention is the foundation to your sales success process. Without adequate thought and planning, you'll risk confusing your prospective client and losing the sale. With it, you'll be primed for sales success.
I write about this extensively in my book. For more about smart selling, check out Masterminds Unleashed: Selling for Geniuses.
Got questions? Give me a call or email me.