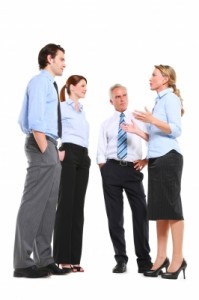 Are you a truly good listener? How do you turn something as natural and simple as listening into a powerful leadership skill?
I only wish I could find an institute that teaches people how to listen. Business people need to listen at least as much as they need to talk. Too many people fail to realize that real communication goes in both directions. ~ Lee Iacocca, former CEO Chrysler.
Listening may be the most important, yet least developed, skill for personal and professional success, especially in today's fast-paced business climate. (Photo: freedigitalphotos.net)
To be honest, most of us take listening for granted. In fact, our brains love to try to multi-task: we assume we know what the person's going to say, so we let our minds wander, at the same time filtering it for similar experiences we've had, all the while formulating a response.
The problem is that while we are doing all that, we're not listening well, and we often risk subtle clues to important issues. This tendency to multi-task is almost universal. I see it with many of the clients I work with.
Good listening skills are essential if you want to:
Secure a promotion or great assignment
Facilitate the right alliances
Foster sales and team alignment
Create healthy personal relationships
Find out what you don't know
Make the right decisions
Develop innovative ideas
So many people I know, instead of actively listening, focus instead on how they are going to articulate their own views most effectively. This approach is misguided.
"Power listening—the art of probing and challenging the information garnered from others to improve its quality and quantity—is the key to building a knowledge base that generates fresh insights," according to author Bernard T. Ferrari in his book, Power Listening: Mastering the Most Critical Business Skill of All (Portfolio Hardcover, 2012).
Unfortunately, business schools fail to teach power listening. Of the nearly 300 communications courses the American Management Association offers, only two deal directly with listening skills. Professionals must nonetheless write and speak more persuasively, so it's essential to improve one's listening capabilities.
One of the more effective ways to improve your listening skills is to work one-on-one with an executive coach. As you can imagine, learning about it in a book won't give you the real-world practice you'll need to develop your power listening skills.