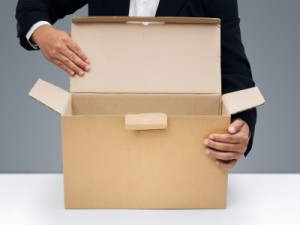 I've been reviewing concepts about leadership challenges and self-deception. This is a common problem that leaders must confront with each promotion to greater responsibility. It's something we work hard on in sessions I have with executive coaching clients. (Photo: Freedigitalphotos.net)
Leadership and Self-Deception, a book written by the Arbinger Institute, features an entertaining story about an executive who is facing challenges at work and home. His exploits expose the psychological processes that conceal our true motivations and intentions from us and trap us in a "box" of endless self-justification. Most importantly, the book shows us the way out.
When you're "in the box," you're speaking with your interests and goals in mind. Through the lens of self-justification, you'll find external factors and other people to blame. You'll deny responsibility for problems and fail to identify your part in perpetuating them. In your interactions, you'll try to change other people and convince them to do what you would do.
When you're "out of the box," there's room for openness, authenticity, and empathy for other people. You'll seek the true basis for problems, including your own participation. You'll be less interested in assigning blame or judgment, or being locked into unproductive battles. You can give up any delusions that trap you and force you to defend yourself. You can channel your energy into becoming self-aware, identifying needs and achieving results. You can begin to find solutions instead of arguments to defend your point.
This struggle between being in or out of the box is exacerbated by the fact that our brains are hardwired to zero in on our strengths and needs and we naturally (subconsciously?) look for opportunities to aggrandize our stature among others. It's human nature and it gets us into trouble all the time.
Worse, when asked about it, we find great reasons to defend our point of view, rendering us closed off to change. We lose the ability to see any other point of view. Why should we consider another if we know we're right? And when that happens, we become entrenched.
Has this ever happened to you? Of course it has, it happens every day. Should we consider another way? Yes, but that might feel vulnerable. Some people may think you question yourself, or that you might not know it all, after all. As the kids say, "Eee-yuew!"