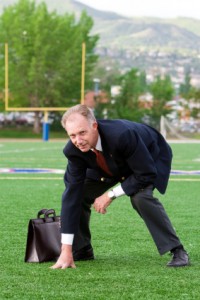 Business and leadership coaching is well known for bringing bottom line success to both a business and a leader. But sometimes there's confusion about what business goals should be set from the beginning.
Part of the problem may occur during the leadership coaching contracting phase in defining business goals and outcomes for the coaching relationship. Surprisingly enough, many executives have trouble defining what they want out of coaching. While they may be very clear about their own personal leadership goals, when it comes to linking it to business outcomes, they have difficulty.
What I find in the work I do with executives is that there are two kinds of goals to work on in leadership coaching — business goals and personal goals. Getting external results is linked to what the leader has to do differently in order to get business results. The personal goals must follow the external business goals.
During the contracting phase with the executive, it is the coach's responsibility to ensure that the goal-setting conversation is sequenced for best results. Mary Beth O'Neill in her book Executive Coaching with Backbone and Heart (Jossey-Bass 2000) suggests the following process:
Encourage the leader to name the business results needed.
Find out what team behaviors need to be different to accomplish the results.
Explore what personal leadership challenges the executive faces in improving these results and team behaviors.
Identify specific behaviors the leader needs to enhance or change personally.
This sequence links business results with team behaviors and with behavior changes in the executive. Throughout the coaching engagement, the coach continually inquires about all three:
The business results
The team's actions
The leader's personal changes
It is important to recognize that in leadership coaching the goal setting process is not as easy as it may initially appear. Many busy executives have a bias for action and operate in a fire-ready-aim mode. It may be necessary for the executive to slow down long enough to establish clear goals.
Sometimes a business situation is too ambiguous to be able to clarify what work process or human relationship goals would support achieving the bottom-line result. The coach who persists in inquiring about these specific goals will help an executive toward better focus and effective action.
At least I've found in the work I do that a continual focus on the business goals and team results helps leaders to see how their actions and communications influence others. What do you think about this sequence of goals for leadership coaching?