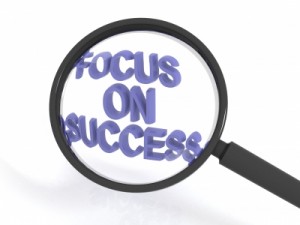 I'm following up on the great strategies Heidi Grant Halvorson writes about in her book Nine Things Successful People Do Differently. Most people don't take goal setting seriously and never get beyond just thinking about them, rather than writing, planning and implementing. (Image: FreeDigitalPhotos.net)
Last week, I explained the first four strategies for effective goal setting:
Be specific (for both goals and obstacles)
Seize the moment
Accurately gauge the distance
Be a realistic optimist
Here are the next five goal-setting strategies successful people use:
Focus on Getting Better, Rather Than Being Good. When faced with a new and difficult project, budget the time needed to get a handle on it. It's OK to make mistakes. Take advantage of others' expertise and ask for help. Don't compare yourself to others — only to your past performance. Are you improving?
Have Grit. Grit is the willingness to commit to long-term goals and endure in spite of difficulties. Improvement is always possible. Successful professionals understand that their abilities are far from fixed. They believe they can improve through practice.
Strengthen Your Willpower Muscle. Willpower is depleted with use. Rest helps you recover quickly and remain positive. Reinforce your willpower muscle with small tasks: Take the stairs, make your bed, and show up on time.
Don't Tempt Fate. If you hang around a barber shop, you'll eventually get a haircut. Stick with the winners. Avoid thinking you can cheat "just a little."
Focus on What You Will Do — Not on What You Won't Do. Many goals involve not doing something. Framing them in this way strengthens self-sabotaging impulses. Substitute if/then planning: "If I feel the urge to ________, then I will_______ instead."
I think one of the smartest suggestions is using "if/then" scenario planning. When you're prepared in advance for obstacles and setbacks, you jump right back in with your plan B.
Maybe a lot of people have bought into the concept of visualizing success, and believe strongly in their innate abilities … then they wonder why it doesn't just happen. Try visualizing the steps you need to take to get there, instead. Yes, there are always concrete steps along the way and you can't get there without effort, sorry!
What do you think about these strategies? Which of them are you already using? Leave a comment, I'd love to hear from you.