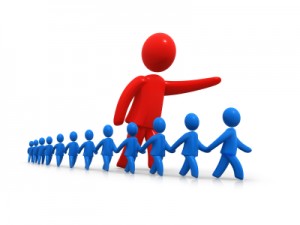 We can change the way we think. In fact, it's not as hard as most of us assume. Changing a habit is hard, and there are many reasons for that. Mainly, the brain creates routines in order to conserve energy, so once a habit is established, it becomes embedded in our brain's neural circuits.
A habit never goes away. However, we can leave one habit alone and create a new one, based on new connections and new insights. Creating a new habit is much more achievable. But in order to inspire people in companies to create new ideas and routines, we require a new kind of management.
One hundred years ago, most people were paid for physical labor, and we continue to rely on the same management principles to encourage peak performance. But now days, as a result of computers, technologies, outsourcing and process improvements, at least 40 percent of employees are considered to be knowledge workers.
For mid-level managers and above, the number is closer to 100 percent. People in organizations are being paid to think. Unfortunately, management models that most companies use are still those of the manufacturing or process eras.
David Rock, in his excellent book, Quiet Leadership, writes: "We have not yet taught our leaders and managers how to improve thinking. Imagine a factory where artists painted pictures, and the people managing them had not studied how to improve the quality of painting itself, only how to build better canvases and frames."
He makes a good point, don't you agree? Think about the way you go about managing people in your company.
Yes, there are routines – there have to be.
And as well, everybody agrees we need more creative input and innovative thinking.
But if your management and leadership style focuses on improving processes and productivity … you'll get the same old results. You'll be increasing the use of old habits and engrained routines, that by their very nature, shut down creative thinking.
Incremental improvements are great but they don't lead to breakthroughs. You probably have some bright people working for you. The increasing education and independence of employees is a valuable asset in any organization, but are we really creating a culture where people can flourish?
I love this statement from author Rock: "…we have not significantly reinvented our management models since the times Henry Ford hired a pair of hands and wished they'd left their brains behind."
Leaders can learn to change people's thinking through coaching conversations. Coaching conversations are those that ask questions to stimulate thinking about possibilities. Peak performance today requires a shift in thinking before behaviors can manifest and turn into business results.
What do you think about these ideas? True? Sometimes true? Only a little bit in your organization's management teams? I'd love to hear from you.