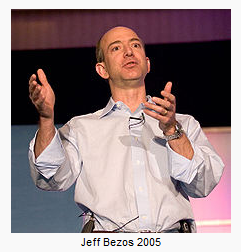 Who's on your list of top CEOs and leaders when it comes to emotional intelligence? An interesting article by Chip Conley on the Huffington Post names the following 10 leaders based on their emotional savvy and explains why:
1. Jeff Bezos (Amazon.com): With his quirky laugh and self-deprecating style, Bezos doesn't sound like a Fortune 500 CEO and that's probably to his benefit. His obsession with the hearts and minds of his customers and his long-term perspective on relationships (and business strategy) are legendary, as was his YouTube announcement of Amazon's Zappos acquisition in 2009.

2. Warren Buffett (Berkshire Hathaway): "Success in investing doesn't correlate with IQ once you're above the level of 25. Once you have ordinary intelligence, what you need is the temperament to control the urges that get other people into trouble investing." Intensely loyal and relationship-driven, he asks his CEOs to run their companies as if they were to own them 100 years from now.

3.  Ursula Burns (Xerox): In tandem with Anne Mulcahy who moved up to Chair, Burns transitioned to CEO as the first woman-to-woman CEO leadership transition in a Fortune 500 company in what has become a pivotal case study in organizational development. Direct, yet respectful, her assertiveness is matched by a sense of mission that inspires her employees.

4.  Jamie Dimon (JPMorgan Chase): At Harvard Business School, Dimon said: "You all know about IQ and EQ. Your IQ's are all high enough for you to be very successful, but where people often fall short is on the EQ. It's something you develop over time. A lot of management skills are EQ, because management is all about how people function." Read Last Man Standing about him.

5. John Donahoe (eBay): Donahoe inherited a difficult situation from Meg Whitman with the need to truly alter the company's business strategy. As a role model for Jim Collins' Level 5 (humility & ambition) and Bill George's "True North" leaders, Donahoe's disciplined self-awareness and his listening ability have created a deeply loyal team and a healthy, evolving culture.

6.  Larry Fink (BlackRock): Called "psychologically astute" in a Vanity Fair feature article, Fink created the largest money-management firm in the world based upon self-reflection, teamwork and direct communication. His senior leadership team embraces EI seminars to improve their skills.

7. Alan Mulally (Ford): Walk around Ford's corporate campus and you will see office cubes featuring handwritten notes that Mulally has sent to employees… praising their work. Great interpersonal skills and a "Clintonesque" ability to make you feel like you're the only one in the room when you're in a conversation with him.

8. Indra Nooyi (Pepsi): Nooyi is a conscious capitalist whose "performance with purpose" agenda has helped move employees from having a job to living a calling. She is acutely aware that being a woman of color means she may receive more attention and scrutiny, but she still projects her personality without reservation — whether it's singing in the hallways or walking barefoot in the office. She wrote the parents of 29 senior Pepsi execs to tell them what great kids they'd raised.

9. Howard Schultz (Starbucks): He says that the main reason he came back was "love": for the company and its people. Very dedicated to generous health care benefits — inspired by his father losing his health insurance when Schultz was a kid.

10. Kent Thiry (DaVita): Leaders with high EI/EQ create culture-driven organizations that perform at their peak due to the power of mission and teamwork. Thiry took over a demoralized kidney dialysis center company that was almost out of business and, with a passionate spirit, created nearly 44 percent annual growth in earnings per share in the past decade, 6th highest of any Fortune 500 company.
This is an interesting list of top leaders who've achieved remarkable things. I'm wondering if there aren't others less known, perhaps some you've worked for, that stand out as great leaders as far as emotional intelligence. Who would you nominate for a top  emotionally savvy leader?