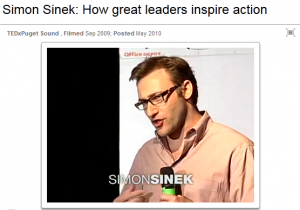 What makes a great leader? Think about the leaders of Apple, Amazon and Southwest Airlines. You can probably name them: Steve Jobs, Jeff Bezos, and Herb Kelleher.
Next, try to name the leaders of General Motors, TiVo and AOL… right, I'd have to go look them up too. Most senior leaders are highly qualified, experienced and deeply engaged in their work. I'd venture that by the time they get to be CEOs, they've passed a few hurdles. They're smart. They know how to lead and influence people. But what makes for great leaders?
What makes a good leader stand out? What makes a leader so strong that their companies are enabled to gain lasting success?
It's curious when you think about leadership and Steve Jobs, for example. After reading the biography by Walter Isaacson, you understand why Jobs had such a terrible reputation as a leader. And yet his followers and fans and — more importantly — his company Apple thrived under his leadership (although there are plenty of examples of his misguidance).
It's interesting to read his history and how it evolved in relationship to the company he founded. Strangely enough, as he matured with age, his company followed, although he never became transformed or excelled in leadership qualities. Do you think of Steve Jobs as a great leader?
He was an incredible innovator, no question. But there has to be more to the story. When other intelligent, creative CEOs die, they don't get the kind of reverence and admiration that followed Jobs' unfortunate death to cancer in his 50s. How does someone with such poor people skills become an icon?
Searching for an understanding led me to Simon Sinek's amazing TedTV Talk, from September 2009. If you have 15 minutes, you may want to look at it. For a better understanding of Sinek's ideas and how great leaders get that way, read his book Start with Why.
Sinek says that, "People don't buy what you do; they buy into why you do it." Leaders who want to succeed should clearly communicate what they believe and why they're so passionate about their cause. Maybe that explains the adoration of Jobs in spite of the fact he was a poor leader.
Love him or hate him, Jobs intuitively knew how to tap into people's emotions and desires. He knew how to challenge the status quo, and he knew millions wanted to follow him down that path.
The question I ask you readers is this:
Do you know what lights the hearts and emotions of your followers, your clients, your customers? Are you tapping into your "why?"
Of course, to answer that you've got to know what inspires YOU, what your core purpose and values are, and what your mission is.
Ah yes, clarity about that will make it easier for you to inspire the people you want to influence. Are you clear about what inspires you?