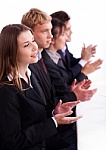 There's an interesting post over on Lisa Petrilli's C-Level Strategies blog, What Millennials Told CEOs They Want from Leaders. (Photo: Photostock.) I'll re-post some excerpts here before commenting:
Ever wonder what Millennials would tell CEOs if they had the chance? Well, at our most recent CEO Connection Forum in LA we asked a group of students from USC's Marshall School of Business to do just that.

This is the summary report we sent to our full membership of mid-market CEOs:

The Summary: In most respects, Millennials are similar to other generational cohorts of the same age. The huge difference is that they are children of the information revolution. Information is so available, raw, and incomplete that they need to be inspired with meaning and enabled to work in different ways than previous generations.

The Findings:

Information is more readily available.

Access to massive amounts of information in the Web makes real and anecdotal knowledge accessible 24/7, and heightens awareness of opportunities and different ways of doing things. Given this, they:
Expect decisions to be made quickly.
Expect free access to information. No "need to know" limitations most of us grew up adhering to.
Do not see the work life divisions on which previous generations built careers. Work and "real" life blend in terms of hours and relationships.
Live and work in a global context.
Expect companies to have and live appealing values (giving back, green …). Having strong, good values is a requirement, not a plus. Not having strong, appealing values is definitely a negative.

The Implications: The implications for those leading Millennials are to:

Inspire with meaning – explain how their jobs fit into the organization's purpose, which in turn is bettering the world.
Enable them to work in their way – the main reward is respect. Give them structure, leadership, guidance. Leverage their bias to work in networked teams, supported by the electronic tools they are so familiar with as they multi-task and blur the lines of work and personal life.
When I read the article I had a few different reactions.  If you don't mind, I would like to pose them as questions, and would appreciate the great feedback that I always know I am going to get.
What does "Inspire with meaning" mean to you?
When it says, "Enable them to work in their own way", what way is that?
How do the behaviors described above work in a corporate environment?
Have people changed, or is it just the context that has changed?
Thoughts?