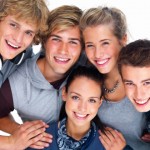 There are many shifting societal changes happening right now, and I believe we are in the midst of a cultural transition including from one generation to another. It isn't as obvious as a comet and you can't stop it by shooting at it. It will happen whether anyone likes it or not.
There is another youth movement going on. While the over 50 set may be able to claim the moral high ground on peace, love and rock-n-roll, we are seeing another large, vital generation, Gen-Y, that wants to do things their way. It probably won't be the same way we Boomers did it. My advice? Get over it!
I was asked to share my thoughts on the coming generational changes and wrote this guest post over on Leanne Hoagland-Smith's Increase Sales Blog: The New Generation Gap: 10 Things to Think About.
Here are a few of my thoughts:
For the younger set: Be open to learning from everyone, but decide for yourself. You have to frame your decisions with the information and background you have. Know when to seek out the pieces to the puzzle you don't yet have. Context matters.

For the older set: Be relevant. Be open to learning from everyone, and challenge the assumptions of a lifetime. People, places and things are evolving all the time. Are you?

For all ages, remember one word: congruence.  The more actions and words match up, the more trust is built. While true for any age, it's especially true for the arriving generations.

Finally, nothing ever stays the same. Let's focus on the good!

What do you think about when you interact with the younger generations at work? How do they influence your world? Do you see their strengths and possibilities? Or do they annoy you? I'd love to hear from you.