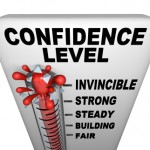 If you've ever worked with an executive coach, then you know what I'm talking about. In private coaching sessions, one of the biggest issues that comes up with clients, even for the smartest and most accomplished ones I work with, is lack of self-confidence. Just about everyone harbors self-doubt, even those who appear least likely.
Having confidence is a huge advantage in careers, life, and relationships. It's the key to attracting the right job, the right people, the right decisions from others, and getting what one wants. I would venture to say that it's key to personal leadership as it has everything to do with influencing others.
And yet, hardly anyone wants to admit they have self-doubts. In fact, with some of my clients you'd never guess they ever doubted themselves. They pour a lot of energy into covering up their self-confidence deficits. And often, this doesn't work. Instead of coming across as authentic and real, they end up on the side of over-bearing and smug.
Like money, everyone wants more confidence. Some people naturally seem to have it; perhaps they were lucky and had the right kind of parenting. But most of us can point out parents, siblings, teachers and bullies who put chinks in our self-confidence armor. So what can you do if you want to improve self-confidence and ensure that you can tap into its power?
Like happiness, it seems everyone has a baseline of confidence. Some people have unshakable confidence built upon strong foundations; others find their confidence level gets a bit shaky when faced with mistakes, criticisms and failures.
Confidence is closely tied with our sense of self-esteem. A healthy self-esteem enables us to experience ourselves not only accurately but gladly. It's a realistic, appreciative opinion; we are able to be honest about our strengths, weaknesses and everything in between, and still feel good about who we are.
There is a difference between the outer appearance of confidence and deeply felt intrinsic self-worth. True self esteem is steady; it doesn't lead to complacency or overconfidence, but instead is a strong motivator to work hard. It also allows us to fail and make mistakes yet bounce back to do even greater things.
One of the better books about building self-esteem is written by psychologist Glenn R. Schiraldi, Ph.D, 10 Simple Solutions for Building Self-Esteem.
According to Dr. Schiraldi, self-esteem is built from three factors: unconditional worth, unconditional love and growth. I'll follow up this post with some tips from his book in my next post.