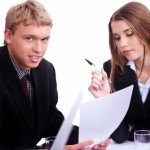 What can you do as a manager to avoid some of the generational clashes and encourage high performing diverse teams? Without a lot of time available to personally mentor Gen Yers, you can't ignore the pitfalls or wait for potential relationship problems to explode. (Photo credit Photostock)
Here are two common issues that cause conflicts for Gen Y workers. If you prepare for them in advance, you can handle these and many others before they become problems. Bruce Tulgan in his book Not Everyone Gets a Trophy has a good section of this and other relationship issues with Gen Yers.
Issue #1 – The Multiple Boss Problem: Often Gen Yers answer to more than one boss. They may have entry level positions, or be interns or trainees. They have to balance competing demands for their time and energy from different departments and managers.
If they try to prioritize or choose which assignment to do first, they risk problems. Here's how you can help, as a manager:
When you give assignments, always ask for an inventory of other assignments at that moment so you can resolve possible conflicts.
Explain the problem to Gen Yers and teach them to give an assigning manager an inventory of other assignments. Show them they don't have to resolve potential conflicts themselves, that they should ask each boss to find the solutions.
Issue #2 – Dealing with Older, More Experienced Colleagues: This problem arises when older more experienced workers don't feel they get appropriate respect and deference, and leads to a reciprocal response from Gen Yers.
What can managers do?
Remind Gen Yers that older more experienced colleagues can help them. Consider assigning each Gen Yer an older peer adviser. Such mentorships create trust and confidence between generations. There should be a concrete business purpose attached to the relationship.
If there are fast-track promotions or rewards available to younger workers, you should make every effort to make them equally available to older workers too. Make sure rewards are for meeting clear, measurable performance expectations.
I particularly like the idea of assigning an older worker as a peer adviser to a new employee. What other ideas have you worked with to avoid unnecessary relationship or diversity conflicts?