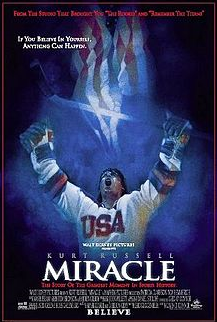 Leadership styles in action: I was drawn into a sports movie on TV last night about the 1980 Olympic victory in ice hockey of Team USA over the Soviets. "Miracle" is the story of a group of ragtag college players who were shaped by a hard-driving coach, Herb Brooks.
Coach Brooks is played by Kurt Russell and gives a great display of leadership skills, some good, some a bit harsh. In the end, the group of young men he coached outplayed the best Russian players in the world to go on to win the Gold.
I thought the speech the coach gave before the match against the Russians one of the most inspirational ever. He said, in effect, that the Russians had been the best for ten years, that in 9 out of 10 matches they'd win every time. He went on to say:
This was their time
This was their game
This is why they had trained so hard
They were born to play hockey
Not even the Russians could stop them tonight
This was the game the Soviets would lose
Tonight was their night
The film is called "Miracle," that's how far removed they were from victory at the outset. In the beginning, it seemed like the coach was driving the boys to exhaustion with obsessively rigorous drills. He used an authoritarian leadership style.
The back story is that the coach had been dropped from the 1960 Olympics team. Towards the middle of the film he becomes more human. He creates a family out of his team. As the boys mature, so does he. He finishes with truly effective inspirational abilities.
The lessons I took away from this film:
Different leadership styles are appropriate in different situations
A leader must show that he or she believes in the team, and in each individual
No matter what the odds are, there's always a chance that the competition will have an off night
It pays to give your best, no matter what outcome is predicted
This is a 2004 film based on a true story worth seeing even if you're not a hockey fan because of its fundamental human values. I'm no movie critic, but I can recommend it. I think you'll like it.
P.S. I found a copy of Coach Brooks' speech on Wikipedia, I guess I remembered it pretty well:
"Great moments are born from great opportunity, and that's what you have here tonight, boys. That's what you've earned here tonight. One game; if we played them ten times, they might win nine. But not this game, not tonight. Tonight, we skate with them. Tonight we stay with them, and we shut them down because we can. Tonight, we are the greatest hockey team in the world.

You were born to be hockey players—every one of you, and you were meant to be here tonight. This is your time. Their time is done. It's over. I'm sick and tired of hearing about what a great hockey team the Soviets have. Screw 'em. This is your time. Now go out there and take it!"