Most of the leaders I work with in organizations are pretty smart, talented and competent. They got to where they are because of their strengths. But leaders have to learn to manage themselves well. By that I mean, we all have to walk that line between self confidence and big ego.
When we fail to manage the intense power of ego, it actually damages our strengths and turns them into weaknesses. Through ego's overconfidence, over-ambition, insecurity and me-centered agenda, talents take on a different appearance, with a decidedly negative impact.
Clearly, ego doesn't turn all of our strengths into polar opposites, but they become close counterfeits — traits that appear to be positive, but ultimately sabotage us. Consider these organizational "strengths," which can backfire when left unchecked: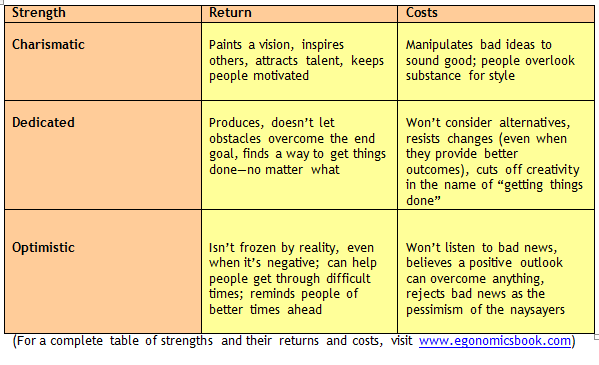 These subtle differences become leaders' ultimate blind spots. Weaknesses feel almost the same to us as our strengths. While we can easily spot these differences in other people, they usually aren't discernible to us.
Why Businesses Fail
Dr. Paul Nutt of Ohio State University conducted more than two decades of research, with hundreds of organizations, on why business decisions go awry. He discovered three key reasons why 50 percent of decisions fail:
More than one-third of all failed business decisions are driven by ego.
Nearly two-thirds of executives never explore alternatives once they make up their minds.
Eighty-one percent of managers push their decisions through by persuasion or edict, not by the relevance of their ideas.
There's no doubt that otherwise talented and intelligent leaders compromise their performance by mismanaging their egos. Ego contributes to the downfall of managers who take new jobs and fail, quit or are asked to leave within 18 months.
From what I see in the work I do coaching leaders, hard-driving competitive leaders operate with a strong desire to win. That's only normal and expected. But when the drive to win takes over, without adequate input from others, without counterbalances, then faulty business decisions occur.
What is our strength turns into our vulnerability. What do you think about this? I know I can see it happening in others; I have a hard time seeing in myself. You?