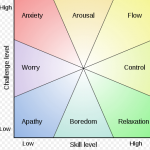 In the groundbreaking book Flow, author and University of Chicago psychology professor Mihaly Csikszentmihalyi shows that a person enters a state of flow when he engages in a task that is both challenging and within his skill set.
I can't tell you how important this concept is when you are managing people in organizations, but you can guess, because it's probably happened to you and to your team members.
Flow refers to those moments when people lose track of time and are hyper-focused. There is real joy in the experience, and often great results ensue.
According to Csíkszentmihályi, flow is completely focused motivation. It is a single-minded immersion and represents perhaps the ultimate in harnessing the emotions in the service of performing and learning. In flow, the emotions are not just contained and channeled, but positive, energized, and aligned with the task at hand.
The hallmark of flow is a feeling of spontaneous joy, even rapture, while performing a task. Although we can't expect to force flow, as managers, we can do a few things to encourage such experiences.
We inadvertently do things that discourage flow, such as when we insist upon activities that are not challenging or for which a person lacks skill. A manager should do all she or he can do to create that confluence of challenge and skill set.
Here's a simple chart to illustrate: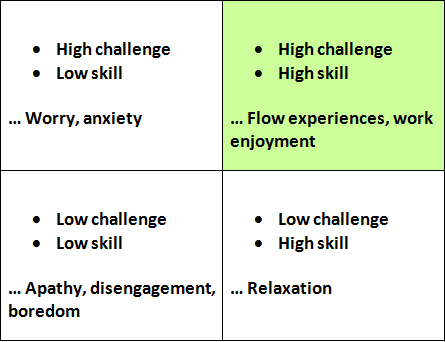 Everybody does better at work when they are able to use their brains fully and engage their imaginations and creativity. That's when work becomes more like play.
We complain when we see employees simply going through the motions, disengaged at their jobs, "dialing it in" without enthusiasm or joy. I wonder how much of that is within the possibility of change?
What would it take to ask a person what it is they need/want to make their job more enjoyable? Granted most managers have too much on their plates already, but none of it is more important than gaining full engagement and participation of people.
The task of finding the "right fit" for people is probably one of the most crucial managers face. It's required in order to create optimal conditions for peak performance.
What do you think about this?