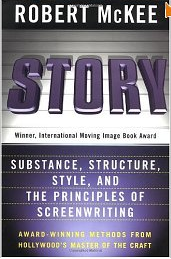 Leading and persuading others through storytelling is key to effective communications. I think we all can agree on that. But the question remains… how exactly do executives learn to craft good stories, and what makes a story effective?
I ran across an old Harvard Business Review article from master screenwriter Robert McKee, from June 2003, Storytelling That Moves People, a conversation with Screenwriting Coach Robert McKee by Bronwyn Fryer.
It's full of wisdom I'd like to share with you here. I agree with McKee, we're all guilty of over-reliance on PowerPoint and graphs when it comes to making our case. The more statistics the better, right?
Along with that, we misuse press releases that are spun so positively that they evoke skepticism and doubt. Instead of buying in, audience members start looking for the chinks and objections. More data, instead of reinforcing our arguments, encourages people to challenge facts.
Which is why a carefully crafted story can do the heavy lifting and create more enthusiasm than facts, figures and data ever can. Our brains are wired to pay attention and participate on an emotional level when we present our facts with stories involving real people in real situations.
In his best-selling book Story: Substance, Structure, Style, and the Principles of Screenwriting, published in 1997 by Harper-Collins, McKee argues that stories "fulfill a profound human need to grasp the patterns of living—not merely as an intellectual exercise, but within a very personal, emotional experience."
Yes, yes, but how can we transition from executive or manager to storyteller? Here are McKee's suggestions:
First, what is a story?
Essentially, a story expresses how and why life changes. It begins with a situation in which life is relatively in balance: You come to work day after day, week after week, and everything's fine. You expect it will go on that way.
But then there's an event—in screenwriting, we call it the "inciting incident"—that throws life out of balance. You get a new job, or the boss dies of a heart attack, or a big customer threatens to leave. The story goes on to describe how, in an effort to restore balance, the protagonist's subjective expectations crash into an uncooperative objective reality.
A good storyteller describes what it's like to deal with these opposing forces, calling on the protagonist to dig deeper, work with scarce resources, make difficult decisions, take action despite risks, and ultimately discover the truth.
It seems to me, this is a good outline for crafting stories out of what we are faced with everyday. Our work is never cut and dry, good or bad, and the challenges and problems we face are never simple or easily resolved.
A good story includes both sides of reality:
The mundane, the easy, the expected
The complex and difficult, the surprising and even the dark side
Furthermore, solutions are never simple in business. There are usually costs and sacrifices. But those leaders who can courageously expose both sides tell a good story and have confidence that listeners will make up their own minds.
The next time you have a presentation or want to persuade someone, what story can you tell? Here are a few questions to help you develop your story:
What are the opposing forces that are causing people  to struggle?
How does this require new solutions beyond what people now access?
At what cost will they have to struggle in order to thrive?
What will help people to dig deeper and create answers?
What will make it easier for them?
Are you addressing all facets of the truth?
What else can you think of that will make your story more authentic and inspiring?