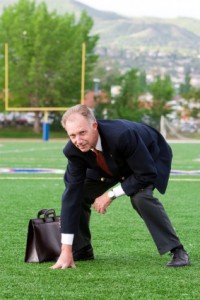 I read somewhere that some companies experience a return-on-investment of five to eight times the cost of coaching.
According to Career Partners International, 40% of 400 U.S. and Canadian business leaders interviewed chose coaching as their preferred method for leadership development.
Why wouldn't all up-and-coming high-potential executives take advantage of the opportunity to improve their chances for a successful career through working with a coach? It turns out that there are just as many smart people who avoid coaching as are attracted to it. Why?
Here are five key hurdles to developing executives and convincing them to change their behaviors, according to Joan Kofodimos, author of Your Executive Coaching Solution: Getting Maximum Benefit from the Coaching Experience (2007):
Lack of authentic feedback: The more authority you have, the less likely you are to seek and receive authentic feedback. You may present an air of confidence and dominance that discourages meaningful interactions.In addition, you think others are judging you, prompting you to become cautious about what you say and do. This increases distance in relationships, which minimizes opportunities for useful feedback. Finally, you may have isolated yourself from others by relying on a select group of trusted advisors who protect you from distractions and annoyances.
Lack of time or value placed on reflection: Most executives face enormous and continuous demands on their time. The likelihood of having time to reflect on behavior is minimal. Furthermore, it's not in the nature of most hard-driving, results-oriented personalities to be introspective.
Reluctance to reveal weaknesses to others: This is a major barrier to getting leaders to change. They strive to continually project an aura of confidence and competence.Complicating matters, the organization and your peers may discourage you from  appearing vulnerable. Demonstrating your weaknesses to outsiders, they reason, can have a detrimental effect on investors' confidence.
Reluctance to acknowledge weaknesses to oneself: Not only will executives avoid letting others see their vulnerabilities, but they will also steer clear of acknowledging them internally. It can be scary to think you may be wrong.When your behaviors lead to positive business results, you may rationalize weaknesses in interpersonal style. If it's not broken, you may think, why fix it? But what works for you today may not carry you through tomorrow. Denial works for only so long before complexity, stress and challenges take their toll.
Fear of letting go of a previously successful style: If your leadership style has been working just fine for a few years, you may fear that modifying it puts your effectiveness at risk. But in the words of accomplished executive coach Marshall Goldsmith, "What got you here, won't get you there."
Are there any other reasons? Probably. Self-deception can be comforting. But it rarely leads to success in the long-term. If you've been thinking about getting a coach, think about these reasons that may cause you to put it off.
Then think about the time you're losing and the costs of not getting promoted…If I can help, let me know. Here's more information about Scholz and Associates leadership development programs.