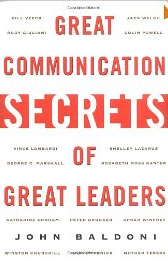 Great Communication Secrets of Great Leaders by John Baldoni (2003), is a great book. I'm re-reading it and each time I pick it up and flip to a random page, there are more valuable nuggets I seem to have missed the first time around.
There's no doubt that leaders and managers who communicate well and frequently–in good times as well as bad–improve performance, get results, and create a successful enterprise.
The author, John Baldoni, makes this an interesting book by providing stories about the communication styles of many of the world's most influential leaders, from Winston Churchill and Katharine Graham to Jack Welch, Colin Powell, Rosabeth Moss Kanter, and Rudolph Giuliani.
It's not just about what to say, how to craft a good leadership message, although that in itself is hugely beneficial. There are other equally important lessons on how to:
Develop the leadership message–determine what you want to say and do
Deliver the leadership message–get the message across verbally, mentally, and metaphorically
Sustain the leadership message–keep the message alive, fresh, and meaningful
Leaders need to do more than stand up and speak; they need to integrate communications into everything they do. They need to address the immediate concerns and issues, as well as open the door to future dialogue and discovery.
Another helpful part of the book develops guidelines for making the most of computer-aided presentations, videoconferencing, and other new technologies, including email communication tips. This is something we could all use, right?
Even  if you don't have a lot of time for reading, this is a good travel book, because you can start anywhere, at any chapter and learn something new and thought-provoking. At least, it got me so engrossed in thinking about my own communication habits, I almost missed a plane the other day…!
Don't let the title put you off if you're fed up with too many books proclaiming to reveal "secrets." This book is the real deal, it's genuinely helpful and comes alive with the inspirational stories of great leaders.