In a series of recent posts, I suggest 7 tips to prepare the way to getting more appointments for selling, and having more sales conversations:
None of these tips involve selling. But the more you participate in each one, the easier and smoother the sales process will be.
Here's the mind-map of all 7 tips for preparing the sales process.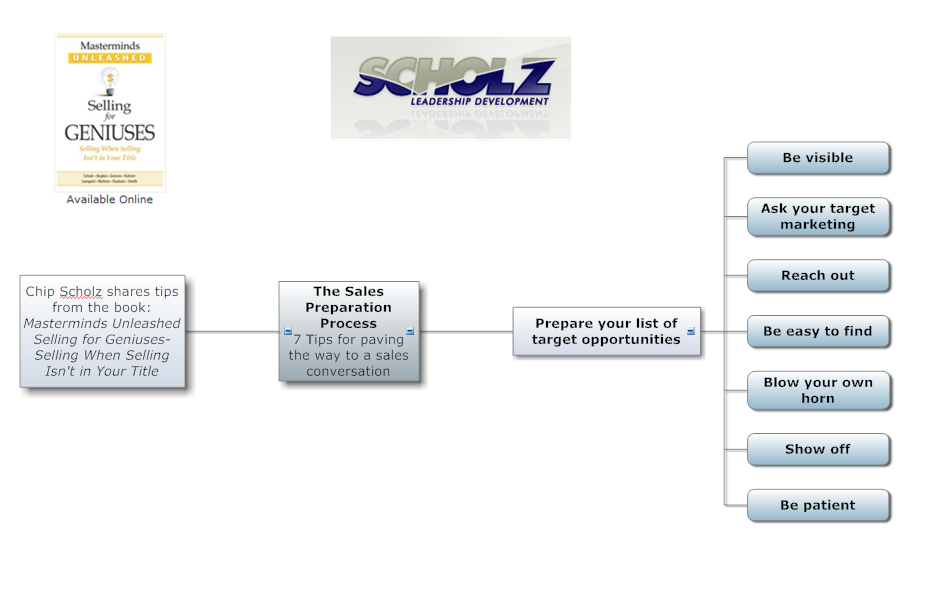 In my previous posts about these 7 tips I mentioned that perhaps you find the last 3 tips the hardest:
Blow your own horn
Show off
Be patient
Not everyone's a natural born salesman, marketer, or enjoys self-promotion.
In fact, most of us struggle with issues of knowing when to show off, when and how much to talk about yourself, and when to be modest.
And most colleagues I know, if they're competitive at all, aren't patient. But if you've been following my posts, and read my book Selling for Geniuses, you've probably gathered that my approach to selling is all about relationships.
Chances are, you know how to build relationships, you already know about give and take, about asking people for their opinions and perspectives. You already know about trust and authenticity.
Why is it we can't apply these same principles when it comes to selling? Well, we can, we most certainly can.
Just because you work for a living and have things to sell, doesn't mean your relationship-building efforts are less sincere, less real, less trust-worthy.
As long as you're clear, transparent, honest, and respectful of people's time, and as long as you express a genuine interest in learning from them, you will create conversations that lead to meaningful results.
The more you can make the connection between authentic relationships and effective selling, the easier selling becomes.
What do you think, does this make sense? It's not rocket science, yet it gets many smart professionals I know stuck. I'm trying to make "selling" less of a bug-a-boo and more enjoyable like it should be.
Your opinions are always interesting to me, please share by leaving a comment.