In a recent post, Better Informed, Better Sales, I explain how important it is to research information about your target market and prospects before you ever approach the selling process. I quoted the late Bill Brooks of the Brooks Group:
"In a highly competitive crowded marketplace, all other things being equal, the one with the most information about the prospect and market, who knows how to turn it into solutions, will win the sale."
I truly believe that learning all you can about your targeted industry, it's people, and your competition will better prepare one for successful selling. Here's the visual mind map of my previous post.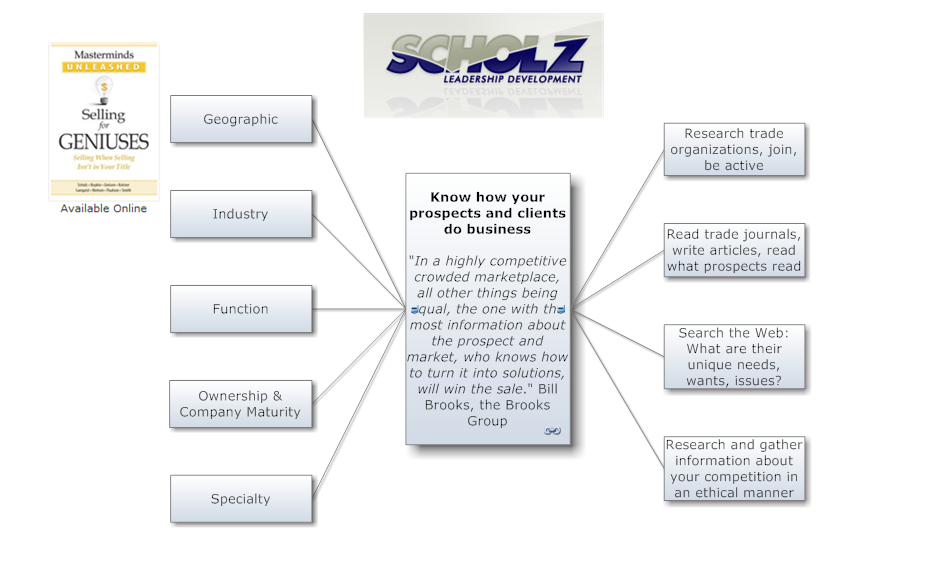 What do you think needs to be added to this visual diagram that represents best ways of getting to know your prospects, and preparing the way for getting known to them?
Part of the process of researching a target market involves contacting leaders in the field and asking them for their help, opinions and expert advice. This in itself is the most valuable part of sales preparation because while gathering information, you're building relationships that can pay off down the line.
I talked about this in my post How to Build a Network – Fast, a few weeks ago.
You can't research and gather information  without contacting and interviewing key people. As long as you frame your conversations as information-gathering, and stay away from selling, you're bound to make a few friends and get to know people on their terms.
The amazing thing is that key industry people, as busy as they are, are often very helpful if you approach them in the right manner, that is with a learning mindset. People love to share their expertise, and provide help and advice, especially to people new to the area or industry.
It helps to have clarity about your key target markets, in alignment with who you are as a business expert. I talk about the clarity process here, in a post called Positioning and Preparing for Effective Selling.
Armed with good information, you'll know who to contact, where your best opportunities lie, and will more than likely come away with some names and referrals. You'll save time and energy because you'll have a map of the territory and a plan.