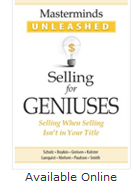 In the last few weeks I've been excerpting tips from the book I collaborated on with 7 esteemed colleagues, Masterminds Unleashed: Selling for Geniuses, Selling When Selling Isn't in Your Title. Not because I want to flog more books, although that's always fun to hear someone's bought it.
My main motivation, however, is this: I've changed careers a few times in my life, and if there's one skill that makes the difference in any industry, in any position, whether working for a corporation or for yourself, it's selling.
A few years ago I moved across country, started my own business and needed to grow a network of contacts – and fast. Not just contacts, let's get real. I needed some clients and I needed to sell my services without delay.
I was able to do so quickly and with success because of all the good networking and relationship-building tips I had been taught across my career by excellent mentors.
Nothing is more crucial to career success than being adept at selling. I don't even like to call it that, because it all comes down to building relationships in the right way with the right people in the right places, consistently over time.
Some of you will buy the book, some will learn a few good tips, some will practice and  succeed. As I say in the book, "SWSWN: Some will, some won't, NEXT!"
It occurs to me that blogging these sales tips, and putting them in book form, might be good for those people who like to read and who learn by reading.
But what about the population of people who prefer other ways of learning, like in visual charts, mind maps and drawings?
I asked one of my staff to create a few visual aids to accompany these recent blog posts about preparing the way for smooth selling. I hope you enjoy them and lock in some learning. Tell me what you think of these as a communication tool.