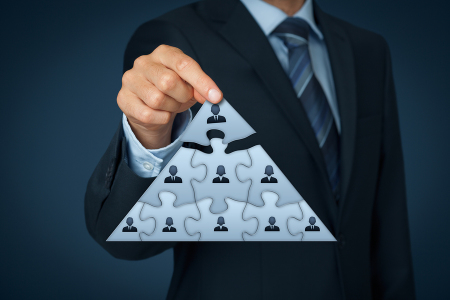 What are the 5 levels of leadership? It's really not surprising that leaders, like all people, go through stages as they mature. Anderson and Adams, authors of Mastering Leadership, have studied the development stages of adults and drawn up parallel levels of leadership maturity. Their Universal Model of Leadership is based on these five levels of leadership stages:
Egocentric
Reactive
Creative
Integrative
Unitive
Just like children grow through stages, adults also progress through levels of maturity as they age. At each successive development stage, we adopt better ways of handling problems and become more creative at managing our world. Reality does not change. What changes is the way we organize ourselves in relationship to the world. As we shift into a higher-order of thinking the world becomes at once more complex, yet simple and elegant.
Egocentric Leadership
Egocentricity is a transition stage that children pass through on their way to becoming independent adults. It's typically strong in adolescents. And it's also a major factor in young adulthood, as individuals search to express their personal identity and focus on the things that define them. In this stage of adult development, it's all about getting ahead, getting our needs met, and showing what we are capable of achieving.
But it's also limiting in that decisions are made primarily on the basis of meeting our own personal needs. There's no shared reality. This preoccupation with self ignores the fact that our decisions and behavior impact others. Therefore, this mental model is limited in its effectiveness. Growth at this stage is when we being to take others' needs and expectations into account. Therefore, our self identity has to shift so as to define ourselves in relationship with others. It is a process of socialization as the independent individual becomes a citizen.
There is a stage of development of consciousness required for this to happen. When we're in one stage, we are like fish in water who don't know anything about water. We assume our meaning making is the way of the "real world." Our assumptions are automatic and we don't see that we are being dictated by them. So at some point, we mature, begin to see the fallacies of our assumptions and begin to adopt a way to relate that includes others and other points of views.
About 5% of leaders do not transition out of this leadership stage. They operate with an Egocentric mental model and tend to be autocratic and controlling. They simply are not organized to permit more participatory forms of relationships. Perhaps they have been so successful in past performance that this leadership style has served them well.
Think about it. There have been many successful, charismatic leaders who have operated at this stage of development. Many don't succeed for the long term. Almost all have problems because of their limited functioning in a networked world.
Next, I'll introduce the Reactive Leadership stage and show that it has many advantages, and yet, it is also limiting. About 70% of leaders are operating at the Reactive level.
What's been your experience working for egocentric leaders? Give me a call. Or, you can reach me here and on LinkedIn.