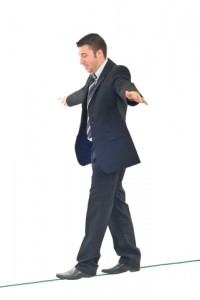 As a business leader, what do you think about expressing self-confidence vs. vulnerability?
There are a lot of great videos on TED.com, but two have left me thinking profoundly: Dr. Brene Brown's talk on vulnerability and the one on shame. As mentioned in my post on Tuesday, expressing self-doubt or anything that hints of a lack of self-confidence is dangerous in the shark infested waters of most corporations.
And yet I see her point: "Vulnerability is the birthplace of innovation, creativity and connection."
People who aren't afraid of feeling vulnerable accept that they're imperfect and aren't afraid of it. They aren't afraid because they accept themselves as they are. They strongly believe that in spite of their imperfections, they are worthy. I've known a few people like that and they are a joy to be around. They are authentic. They laugh at themselves and their imperfections.
You've probably known people like that yourself. If you've ever worked for a boss who was a genuinely approachable human being, you know what a rarity that is. But as Dr. Brown emphasizes, it takes courage to have compassion for oneself and others, to risk being vulnerable.
Most of us are frightened whenever we try to achieve the right degree of vulnerability and authenticity. We don't want to appear weak. We fear greatly because "the right degree" is so narrowly defined by how little we've really accepted our imperfections and past mistakes. Too much openness and we fear falling into the abyss of self-loathing… or, of being detected as a phony.
Dr. Brown is also right about the fact that we are the most in debt, obese, and overly medicated adult cohort ever. We numb our feelings of vulnerability and shame with spending, buying, eating, drinking, sex and medicating. We try to appear more perfect to cover up feelings of being "less than," to quell the inner voice of "not enough."
I hope you'll view the videos, and tell me what you think about how this could change our interactions at work. As I said before, I'm not exactly a "touchy-feely" kinda guy. But I believe we could all benefit by becoming more accessible, more authentic… dare I say, a little more vulnerable? What do you think? Leave a comment.
In the meantime, let me share a few quotes from Dr. Brown's videos:
Quotes by Brené Brown
"Maybe stories are just data with a soul."
"Vulnerability pushed, I pushed back. I lost the fight, but probably won my life back."
"We are the most in-debt, obese, addicted and medicated adult cohort in U.S. history."
"When we numb [hard feelings], we numb joy, we numb gratitude, we numb happiness."
"You're imperfect, and you're wired for struggle, but you are worthy of love and belonging."
"Vulnerability is our most accurate measurement of courage."
"Vulnerability is the birthplace of innovation, creativity and change. "
"Vulnerability is not weakness. And that myth is profoundly dangerous."
"You cannot talk about race without talking about privilege. And when people start talking about privilege, they get paralyzed by shame."
"When they teach [doctors] how to suture, they also teach them how to stitch their self-worth to being all-powerful."
"That's what life is about: about daring greatly, about being in the arena."
"If you put shame in a Petri dish, it needs three things to grow exponentially: secrecy, silence and judgment."
"The two most powerful words when we're in struggle: me too."