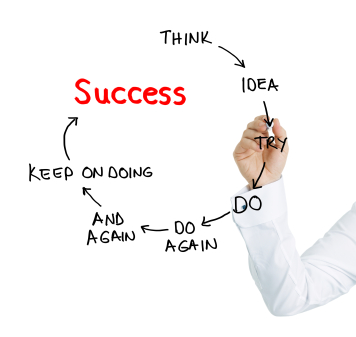 I'm following up on my previous post on what makes leaders successful with four goal setting tips from the book Nine Things Successful People Do Differently by Heidi Grant Halvorson. These nine strategies are based on decades of research on the key factors that influence performance. They are relatively straightforward and easy to apply, but the trick is to avoid skipping them because they seem "obvious."
Few people use goals effectively or take them seriously. In fact, only 1% of today's professionals actually write down, track and review their goals, according to author Dan Zadra in 5: Where Will You Be in 5 Years from Today? Here are the first four strategies from Halvorson's book:
Be Specific. Knowing exactly what you want to achieve keeps you motivated. Outline what you must do on a daily basis to realize your desired results. Which actions must you take to be a better manager/spouse/parent/friend or perhaps eat more healthfully? What will success look like when you're there?Thousands of studies show that specificity is one of the most critical, yet overlooked, steps for reaching any goal. Also be specific about the obstacles in your way and how you will respond to them.
Seize the Moment. Predetermine when and where you'll take action to avoid the traps of distractions and other competing commitments. The best tactic is "if/then" planning: If X happens, I will do Y. Studies show this approach works because it uses the brain's language of contingencies. The brain excels at remembering and using "if/then" scenarios. You can execute your plan without consciously thinking about it because you've decided in advance how to proceed.
Accurately Gauge the Distance. Decide how often you'll evaluate your progress. Determine where you'll gather information: Can you self-assess, or will you need others' feedback? Create reminders to perform your assessments. To stay motivated, remind yourself of the tasks that remain for goal completion.
Be a Realistic Optimist. If you're full of self-doubt, recall some of the goals you've achieved in the past and what it took to pull them off. Visualize how you'll deal with looming challenges. What's your Plan B? Use if/then planning.
What do you think about these tips? They work, if you apply them.