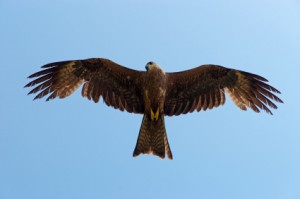 I've been laying out a success formula for life and career through Clarity, Intention, Attention and Focus. These are the four keys my co-authors and I talk about in our latest book, "Do Eagles Just Wing It?"
By writing down specific intentions you get clarity, and then you identify the critical success factors and waypoints that let you know you're on track.
But before I start talking about attention and focus, I want to give you one incredible secret for supercharging this whole process of defining your success formula. This one thing will make it many times more likely that you'll succeed.
What's the secret? Emotions. Emotions drive us in ways nothing else can. And when we link our emotions to our Waypoints, it multiplies our chances of success.
Emotions for waypoints are like thermals for birds. Thermals are warm columns of air that rise up from the ground. Eagles can fly between 20 and 30 mph under their own power. But when they're taking advantage of thermals they can get up into the 60-70 mph range.
A even better analogy is flying gliders. Without thermals, glider flying is a local activity. Very safe. Never leaving sight of the airport. 15-20 minutes at the most. But if you head somewhere where there are serious thermals available – Colorado, New Mexico – now you can have some unbelievable adventures. Hundreds or even thousands of miles. Hour after hour of spectacular views. It's really a completely different experience.
So What?
Linking emotions to waypoints has the same effect on us.
So how do you do that? The trick for linking emotions to your waypoints is to ask yourself this question – so what? But don't ask it just once. Ask it five times. Here's what I mean …
Intention: I want to be the top salesman in my firm… So what?
If I were, I'd earn more money… So what?
I'd be able to buy a larger home for my family… So what?
My boys would each have their own rooms, and my wife could have her office/art room… So what?
My family would know how much I truly care about them and they wouldn't have to suffer like I did growing up.
I think of this as the Goose Bump test. If you find them, you're on your way. If you don't, keep trying until you do. Feelings are the real reason we do things. If you want to give your plan real power, connect your waypoints to your feelings.
Okay, next up, let's talk about Attention and Focus.