In order to be a servant leader, one needs the following qualities: listening, empathy, awareness, persuasion, foresight, stewardship, growth and building community. Acquiring these qualities tend to give a person authority versus power.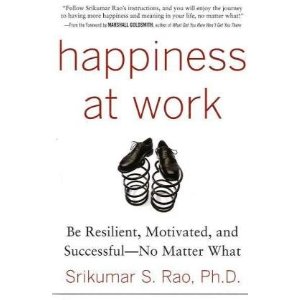 Acquiring a service mentality requires being "other-centered" as opposed to "me-centered."
And yet, this is a time of year one becomes involved in taking stock…during this last week of 2010. What's been done, not done, expenses and profits, tracking all those lists and charts…
This is also a good time to look at your inner compass. Are you growing in the right direction? Are you developing your collaborative leadership skills?
One of the books that I received this year, highly recommended for its wisdom, is Happiness at Work: Be Resilient, Motivated and Successful – No Matter What, by Srikumar Rao.
I want to share a key exercise anyone can do in the next few days that can have a profound effect on your experiences of happiness in everything you endeavor.  Initially, I thought this book wasn't sharing anything new, but it is so well-written that its uncommon sense sinks to a deeply meaningful level.
Before I share the exercise, here's what the book promises:
Learn to create resilience and happiness no matter what's going on in your life:

In these tough times, there are few people who are completely happy with the current conditions. From business executives to the everyday Joe or Jane, everyone seems to be going through a rough economic and personal crunch.

But acclaimed business school Professor Srikumar Rao says that we can learn to create joy no matter what else may be going on around us.

Rao shows you that it isn't the negative thing that happens to you that causes your unhappiness, it's how you see it. Happiness at Work is a thought-provoking new title that moves the mind away from negativity and forces you to resist labeling situations as "bad", but rather seeing them as neutral.

Happiness at Work provides:

Surprising ways of looking at change and problem-solving
Exercises that shift one's perspective

Learn the vital wisdom necessary to achieving a joyful, successful life as you define it through greater resilience and a strong inner core.
Here's the exercise suggested, called "Step into an other-centered universe."
Carefully observe how much of your time is spent in your own me-centered world. Notice how many of your interactions with others are on autopilot. Notice how you judge people according to your notions of what's right.
Then try experimenting with this mental model. Say to yourself, "It is my duty and privilege to be of service. I will do whatever I can to make life easier for all people who cross my path – boss, colleagues, family members, friends, and random people who ask for help."
I know this may seem a little crazy and over the top. But this is an experiment, an exercise to see how you react and respond.
You should do this without expectations, however. Don't expect even a thank-you. If you do, it destroys the power of the exercise.
The idea here is to be thankful you've been given an opportunity to be of service. As you really get into the spirit of the exercise, with some time, you will experience some strong feelings. Note what they are like.
Don't expect to be able to do this all of the time and with everyone. Dedicate several intervals each day to playing out the role of being of service, of being other-centered. Don't try to do it for a whole day, just ease into it.
Do a little bit more each week and don't beat up on yourself if you're not successful.
Of course, the whole exercise is designed for people who live too much in their own "me-world." And who among us doesn't live pretty much self-focused?
When you engage in trying to be of service to others, you are doing it to make yourself feel better. That, in itself, is me-centered, but it's a starting phase. Eventually, it should become habit and more genuinely other-centered.
It's hard to maintain a focus on being of service to others, but when you do, it's guaranteed to have interesting pay-offs. What do you think?
I can see where it can be applied to learning to practice servant leadership at work. Here is the mental model to repeat to yourself:
"It is my duty and privilege to be of service. I will do whatever I can to make life easier for all people who cross my path – boss, colleagues, family members, friends, and random people who ask for help."